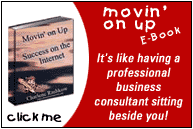 How to Write a Business Plan...
Perhaps you awoke this morning buzzing with excitement about a fantastic idea that occurred to you for a start-up business venture, yet you have no idea where to begin to put it into words. If your goal is to successfully persuade investors to back your business, you must be able to present a sound, comprehensive business plan that demonstrates your company's goals and objectives.

Used as a means for detailing all the specifics of your organization or company, the most obvious reason for knowing how to write a business plan is for attracting the attention of investors, financiers or loan companies. Words truly matter when it comes to your business plan, so if you want to convey your business ideas dynamically, while persuading a backer to invest in your company and your ideas, let All Your Writing Needs help you polish your business plan to perfection.


The following is a sample outline of what may be included in a business plan created by All Your Writing Needs Writing Services:
Management Profiles

Executive Summary

Objective

Current Lines of Credit

Current Licensing

Marketing Strategies

Competition

Demographics

Monies Spent & Available


Start Up Costs Required

Market Opportunities

If you're not sure what to write in your business plan or or how to write it, All Your Writing Needs is up for the task! Whatever your writing needs, whether personal or professional, no job is too big or too small! Request a Quote online or call (310) 514-4844 for a FREE Consultation. Remember, "Better Writing means Better Business!"

How to Write a Business Plan!
By Charlene Rashkow, Writing Stylist Copyright2003
Thank you for Visiting...